It's Saturday, and time to get all the techo crap links I've collected off my plate. So in no particular order, here I go...
(H/T
Gizmag.com
) I saw Iron Man 3 recently, the first movie I've seem in a theater in years, and I wondered then how far out technology was to achieving what I was seeing in the exoskeleton area. Then when I saw how Honda with their whole excellent robotics knowledge base
have an assisted walking device that they are ready to start marketing
, I was blown away. This will revolutionize elder care. Goodbye wheelchairs - at least partially...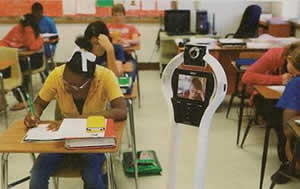 In other robot news, it didn't take long for the
telepresence with wheels thing to become a reality
. While I can see this being necessary for some, I can also see the potential for misuse. It is at most a 5 year fad I think. Consider the next step where there are no classrooms and virtual schools - not such a long step... but a cool for now technology nonetheless.
A jeep looking watercar...
how neat is that? Of course, looking over the advertising material, I am a little concerned about the apparent requirement for women in these things to be hot and scantily clad... I mean doesn't it limit the market share in predominately Muslim areas?